2017 Regional Emerging Writer's Contest
We are excited to announce the Emerging Writer's Contest winners for 2017! We received such an impressive number and quality of submissions this year. The final contest judges were all notable authors who participated in the 2016 Montana Festival–– Richard Fifield (Fiction), Amanda Fortini (Nonfiction), and Sherwin Bitsui (Poetry). Thank you for your contributions, and congratulations to the 2017 contest winners, R. Cassandra Bruner (Poetry), Catherine Raven (Nonfiction), and Patrick Vala-Haynes (Fiction). Winning submissions for each genre are linked below the author bios.
Contest Winners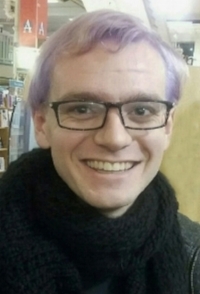 Heartland by R. Cassandra Bruner
R. Cass Bruner is a current MFA poetry candidate at Eastern Washington University, where she works as managing editor for Willow Springs Books and web editor for Willow Springs literary magazine. Before moving out West for graduate school, she lived in Southern and Central Indiana, caught in the overlap between the Bible Belt and the Rust Belt. Her work has previously appeared in Axolotl.
St. Ex's Boa by Catherine Raven
Catherine Raven earned her BA in Botany/ Zoology at UM and served as a backcountry ranger during summer and fall at Mt. Rainier National Park. She graduated with a UM President's Recognition Award for Biological Sciences, and completed her Ph.D. in biology at Montana State University. Her nonfiction story, St Ex.'s Boa, is the first chapter of a book length manuscript she completed in the last year. Catherine was a participant in the Tin House Writer's Workshop led by Nick Flynn from Tin House in Portland, OR, and Steve Almond from Lighthouse Writer's Workshop based in Denver, CO. Catherine is looking forward to attending the Montana Book Festival this Fall.
The Henchman by Patrick Vala-Haynes
"So fresh, fresh, fresh. I've never read anything like it, nor do I expect to. That's a rare thing indeed."
-Richard Fifield
Patrick Vala-Haynes is a Sundance Screenwriting Fellow, fiction writer, essayist, and reluctant poet. He admits to knowing more about well-drilling, carpentry, dance, bicycles, cannons, and alfalfa than any man should. As a freelance Fight Director, he has choreographed sword fights and hand-to-hand combat for more than a hundred stage productions. He and his partner Robbie own a bicycle shop in Yamhill County, Oregon. They live within running distance of the Oregon Coast Range. His short story, The Henchman, was adapted from his novel of the same title.